Which camera is best for
digiscoping
? This question arrives me almost every week. And I really can't give an objective answer. I only can say, that for me the
Nikon Coolpix 990
is best.
Other
digiscopers
have made totally different experiences.
I've seen so many fantastic shots taken with a
Nikon Coolpix 4500
in the web, but I was not able to get many good shots with this camera.
Also I've seen so many fantastic pictures taken with a
Nikon Coolpix 995
. Ok, my pics were not bad, but for me the
990
works much better. So please take this comparison not as an objective competition between these cameras. It's totally subjectice, and all pics shown here are all made under different conditions and circumstances.
So please, form your own opinion.
Some pictures for comparison. I used average results :
As you can see, the
Coolpix 990
brings out details perfectly. The focus works good in most situations. Colours come out very authentic. In bad light colours often comes out a little bit cold.
The
Coolpix 995
is ok for
digiscoping
. Sharpness can be good, but focus misses the subject quite often. The
990
is the better choice. In backlight chromatic abberations appear heavily.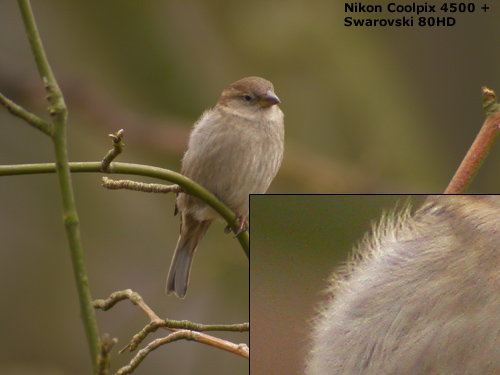 All my images taken with the
Coolpix 4500
came out a little bit soft. The focus failed very often. I was not very happy with this camera.
Great colours, almost no details when the distance is too great. At low distance (for example when you photograph out of a hide, with the
bird
about 7 metres far away) the results are good, and the pics show great details.
I've heard of other
digiscopers
, that didn't have that kind of problem, and again others only get worse shots, equal from which distance. I don't know why.
Just for comparison : This photo is not
digiscoped
, it is taken with a digital SLR camera, Canon EOS D60, an 1,4x teleconverter and a 300mm L IS USM lens. The resulting focal length is 672mm. The details come out great, the focus works very fast and precise. To name a disadvantage : In bad light conditions the vibrations of the SLR-mechanism cause vibration-blur to the pics. So, this one's only good for perfect light... But then it works great.
All pics shown here are just resized. There's no photoshop work done to them. The crops in the pictures are just from the original pic. No resizing, no optimizing.
For me, the
Coolpix 990
is the winner. But I recommend you, to read other articles about the differnet cameras, cause my experiences are often a bit different from others. Don't ask me why.
So make your own choice...
... and happy
digiscoping
...
By the way, my choice for the future will be a
Canon EOS 7 D
Mark II (fantastic camera) together with a 400mm 2,8 L IS USM when photographing with DSLR and I stay with the old
Nikon Coolpix 8400
combined to a
Kowa
spotting scope when
digiscoping
.
If you want to buy a camera like the
Canon EOS 7D Mark II
, a scope or just even other things, you can support me keeping this website online when you use this link to Amazon and then buy your camera or anything else there :
Canon EOS 7D Mark IIat Amazon
Thank you for your help :-) !



Article from Somewhere in 2005